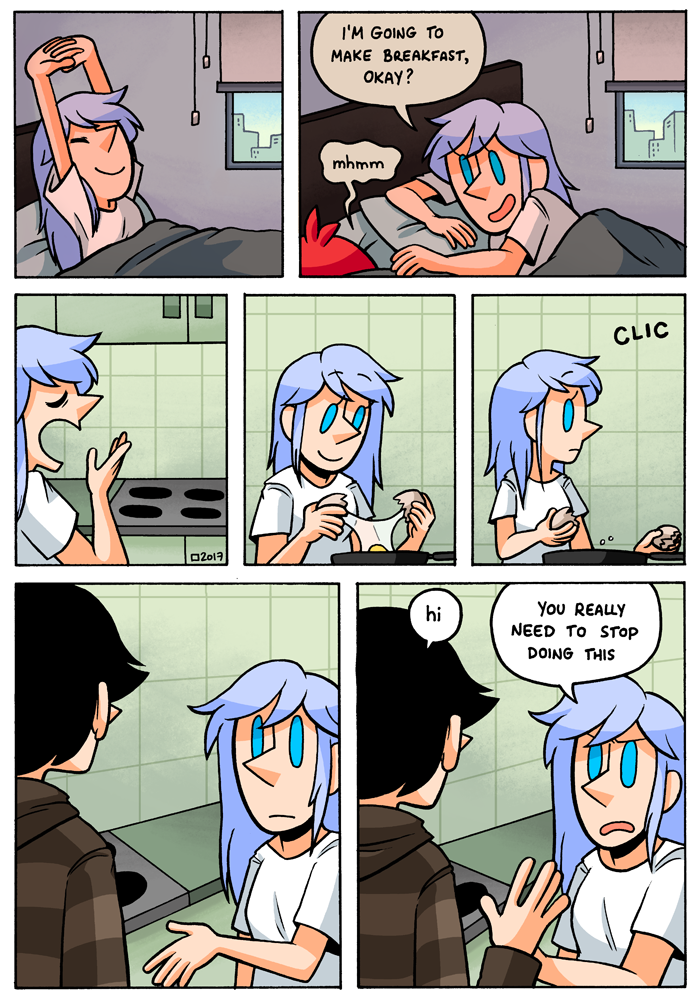 Why do you still have the keys to this apartment…?
Panel 1: Sigma's bedroom. Xi is sitting on the bed, stretching her arms overhead with her eyes closed. Her hair is messy, and she's wearing an oversized white shirt. A bit of sunlight comes in from the half-closed window.
Panel 2: Xi turns to Sigma, who is sleeping next to her (almost off-panel, only the back of his head is visible). With a smile, she says "I'm going to make breakfast, okay?". Sigma says "mhmm" in a wavy speech bubble.
Panel 3: Xi walking into the kitchen, yawning.
Panel 4: A close-up of Xi breaking an egg, letting it fall on a frying pan.
Panel 5: Same close-up, but now Xi's turning to her left as she hears a "clic!" sound coming from somewhere off-panel.
Panel 6: In the foreground, Rho, seen from the back. On the background, Xi turning to look at Rho, with a slightly surprised expression. None of them says anything.
Panel 7: Same set up as the previous panel. Rho raises his hand and says "hi". Xi looks at him with an angry stare and says "You really need to stop doing this"
Hey there! Happy New Year! 🙂
I'm just here to remind you of the DOG & FRIES EXTRAVAGANZA STORE – now in blog post form! Right now we have some sweet vinyl stickers of the Postcards cast AND the Dog from Dog & Fries!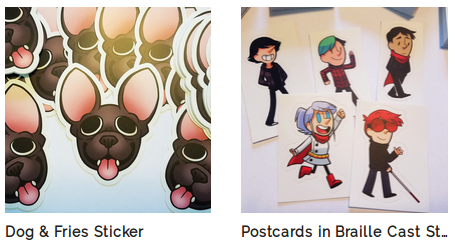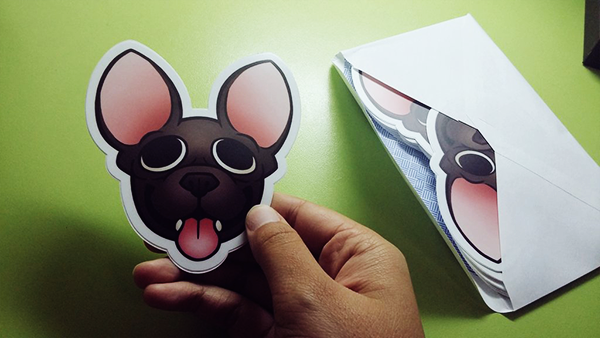 it's a pretty big dog.
The store is run by my best pal (and official Dog & Fries artist) Danica, so everything ships from the USA – making it easier on shipping for most of you! We'll have more stuff coming up in the future, so stay tuned 😀
You can also now follow @dognfries on Twitter for announcements, contests, and overall fun!
After months of work (and 2 and a half years of comic), Postcards in Braille finally has its own website!! 🎉🎉🎉
Right now the comic is updating once every two Mondays while I catch up and recover my buffer, but I'm trying my best to return to weekly updates as soon as possible. If you want to know what I'm up to you can follow me on Twitter at @kurisquare.
Let me know if you find any issues with the website! Thanks for visiting!